Shaker Heights High School
Class Of 1970
Welcome to the Shaker Heights High Class Of 1970 web site.
The Shaker Class of 70 Reunion is up and running in preparation for our 50th Class Reunion.
Mark your calendar on July 25, 2020.
For those of you who need a visual...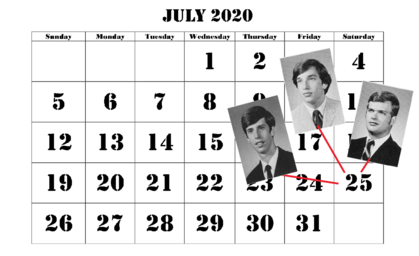 Oh, and you might as well save the 24th and the 26th while you're at it.
Make sure I have your correct email address. If you know of anybody who has not enrolled in this web site and who wants to attend, please contact them and hook them up with me.
*******************************
How to sign up on this web site: 1) Find your name by clicking on the JOIN HERE under the red "Sign In" button. 2) Click on your name. 3) Follow the instructions. If you are having difficulties, hit the ol' "Contact Us" link over on the left and send me a message in that bottom box thingy.